>> Thursday, November 13, 2008
First, astronomers working on the Hubble announced they'd
directly imaged a planet around another star, Fomalhaut
:
Unfortunately, some wind was taken from their sails by an announcement from a team of astronomers from the Gemini and Keck observatories:
the Gemini/Keck team visually imaged a system of at least three planets orbiting HR 8799
. Two of the planets, at points "b" and "c" are visible in this image: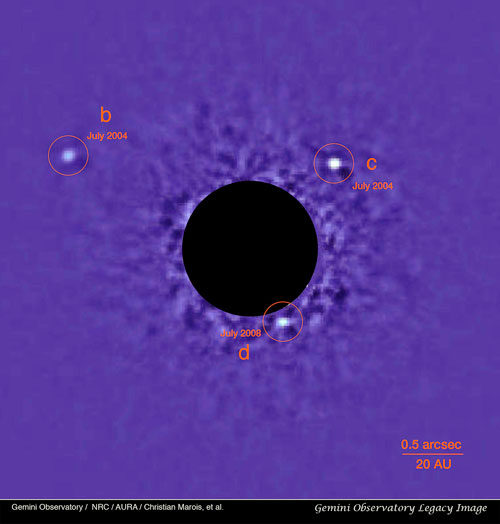 This isn't the first time planets outside our solar system have been
detected
. We've predicted/surmised/deduced their presence from stellar wobbles and similar anomalies. But this is the first time we've
seen
those planets, seen them right there in the image. And not just one planet and one star--but an distant, alien star system.
These kinds of images are as close as any of us will ever get to standing on the bridge of a starship, surveying distant worlds through the viewscreen or porthole. These are alien worlds you're looking at. Strange, remote, formed of the stuff of suns other than our own.
It's hard to find the words, actually.
But revel in it.