>> Friday, November 01, 2013
DEARLY BELOVED[PLEASE HELP HUMANITY]3‏

DEBORAH HERMAN (debhrm@pstrs.com)

From:

DEBORAH HERMAN

(debhrm@pstrs.com)

Sent: Fri 11/01/13 12:31 AM

To:


NAME: DEBORAH JENNIFER HERMAN

COUNTRY OF BIRTH:AUSTRALIA

ATTN:BELOVED,


GREETINGS IN THE NAME OF HUMANITY,I AM MRS DEBORAH JENNIFER HERMAN A CITIZEN OF AUSTRALIA BUT PRESENTLY IN THE MALAYSIA.I USED TO BE WORKING FOR THE FEDERAL GOVERNMENT, I AM 50 YEARS OLD, I AM NOW A NEW CHRISTIAN BUT FROM ALL INDICATION,MY CONDITIONS HEALTH WISE IS REALLY DETERIORATING DUE TO A PAINFUL LONG TIME OF SUFFERING FROM CANCER OF THE LUNGS AND NOW,FROM OBVIOUS RESULTS FROM MY DOCTORS INDICATES THAT I WON"T LIVE MORE THAN 1 YEAR, ACCORDING TO MY DOCTORS, THIS IS BECAUSE THE CANCER STAGE HAS GOTTEN TO A VERY BAD STAGE OF COMATOSE.


MY LATE HUSBAND DIED LAST FIVE YEARS, AND DURING THE PERIOD OF OUR MARRIAGE WE COULDN'T PRODUCE ANY CHILD. MY LATE HUSBAND WAS VERY WEALTHY AND AFTER HIS DEATH, I INHERITED ALL HIS BUSINESS AND WEALTH.


THE DOCTORS HAS ADVISED ME THAT I MAY NOT LIVE FOR MORE THAN 1 YEAR, SO I NOW DECIDED TO DIVIDE THE PART OF THIS WEALTH, TO CONTRIBUTE TO THE DEVELOPMENT OF THE CHURCH IN AFRICA, AMERICA ASIA, AND EUROPE.




I SELECTED YOU AFTER VISITING THE WEBSITE AND I PRAYED OVER IT.I AM WILLING TO DONATE THE SUM OF $25,000,000USD (TWENTY FIVE MILLION UNITED STATES DOLLARS) TO THE LESS PRIVILEGED.




PLEASE I WANT YOU TO NOTE THAT THIS FUND IS LYING IN A SECURITY COMPANY IN THE MALAYSIA.ONCE I HEAR FROM YOU, I WILL FORWARD TO YOU ALL THE INFORMATION YOU WILL USE TO GET FUND RELEASED FROM THE SECURITY COMPANY AND TO BE TRANSFERRED TO YOUR ACCOUNT.

I HONESTLY PRAY THAT THIS MONEY WHEN TRANSFERRED TO YOUR ACCOUNT WILL BE USE FOR THE SAID PURPOSE, BECAUSE I HAVE COME TO FIND OUT THAT WEALTH ACQUISITION WITHOUT HUMILITY,ALL IS VANITY.




PLEASE PROVIDE ME WITH THE FOLLOWING INFORMATION SO I CAN FORWARD IT TO A CHURCH ATTORNEY WHOM MY DOCTORS RECOMMENDED SO THAT HE CAN GUIDE YOU ON CLAIM OF THE INHERITANCE FUNDS.




HE IS DILIGENT AND A CHRISTIAN SO I AM CONFIDENT HE IS GOING TO HANDLE THE TRANSACTION WITH YOU AND LEAD, ADVICE YOU ON HOW TO SECURE THE FUNDS IN YOUR FAVOR.


INFORMATION NEEDED

FULL NAME...................................

FULL ADDRESS......................................

COMPANY AND ADDRESS:...........................

MARITAL STATUS:.....................

RELIGION:.................

SEX:............................

FAX NO..............................................

PHONE NO:..................

MAY THE GRACE OF OUR LORD JESUS THE LOVE OF GOD AND THE FELLOWSHIP OF GOD BE WITH YOU AND YOUR FAMILY.

I AWAIT YOUR URGENT REPLY.(d.herman3@aol.com}

YOUнRE SISTER IN CHRIST.

MRS DEBORAH JENNIFER HERMAN
Dear Mrs. Herman,
Salutations in the name of... erm... fellow humanity!
I have to lay it out straightly for you, Mrs. Herman: in recent months I haven't bothered writing too many open letters of this sort, but I found yours especially compelling because I do believe this is the first time in my life I have ever received an e-mail from a patient in a coma. Indeed, while I am not a medical professional and have only a lay knowledge of comas, I think you may be doing your coma wrong, so to speak, as being in a coma usually, if not always, precludes visiting websites, praying and sending e-mails, not to mention conducting business transactions. Speaking of which, one has to wonder whether a business transaction conducted by someone in a coma would be enforceable or have any validity; well, actually, I already know the answer to that one, so I don't really "wonder" about it at all: generally speaking, unless there's some legal provision I am unaware of, coma patients are typically considered incompetent to handle their own affairs.
Now, I
have
come across
claims of communications being made with people in persistent vegetative states
, but I have to admit I'm a bit skeptical. And the best of those claims--the ones like the one at the link that involve scientific machinery and not merely some person coming in and saying, "Oh, he blinked when he heard his dog's name!" or "She waggled her fingers when I asked her how she was feeling, that must mean she's fine!" still fall well short of typing up an e-mail and sending it. (Though I will also concede that your use of ALL CAPS usually suggests an author who is in some kind of semiconscious or fugue state, or who at least would display minimal brain activity if hooked up to an EEG.)
A far more likely explanation, and I believe this is good news, Mrs. Herman, is that you have really, really bad doctors.
I do not intend to impugn the professionalism of the medical community in The Malaysia. I am sure that, like most places in the world, there are very good doctors who make the most of the available resources they have in The Malaysia, and very bad doctors who would be incompetent no matter what tools they had at hand; this is certainly true in the United States and I imagine it's true anywhere else you go. Even in the poorest country one can imagine, no doubt there are doctors who are miracle workers given what they have to work with, and even in the richest country one could visit, there's probably some currently-licensed medical professional who would sew his watch up inside an appendectomy cavity before staggering back to wherever he's stashed his medicinal scotch. Ability, competence and sobriety aside, it's also true that there is a wide range of medical schools and training programs, and there are certainly educational pathways that would leave even the most promising medical student on Earth without the knowledge and skills to successfully distinguish a colonoscopy slide from a photograph of a hole in the ground.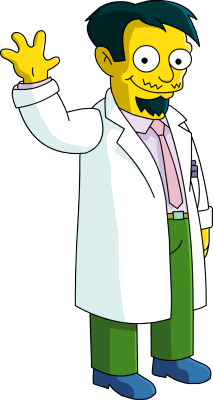 But if you're writing e-mails, and conducting web research, and performing assorted other activities, it seems likely to me that the doctor who diagnosed you with "A VERY BAD STAGE OF COMATOSE" may well be one of the least-skilled and/or least-capable doctors in The Malaysia. We have a television program in the United States called
The Simpsons
in which a recurring character named "Dr. Nick Riviera" appears (that's a picture of him on the left), and the ongoing joke about this Dr. Nick (as he's usually called) is that
he is a very bad doctor
; he is a nice man, with a wide smile and a friendly catchphrase, "Hi, everybody!" that he draws out in a kindly, euphonious way, but
he has been known to set himself and his office on fire
. For example. Dr. Nick has a funny accent: I don't know if it supposed to be a The Malaysian accent or not, and of course Dr. Nick is a cartoon doctor and not a real doctor, but is it possible you've encountered his real-world inspiration? Perhaps. At the least, I feel that Dr. Nick is exactly the sort of medical person who would poke and prod you and listen to your complaints of pain and observe you sending e-mails, and (erroneously) conclude you were suffering "A VERY BAD STAGE OF COMATOSE" (he might even announce it loudly, in a way suggesting the diagnosis was in ALL CAPS).
It is for this reason I have a humble suggestion, a counter-proposal for you.
I realize from your missive that you must be a very religious woman, and while I am not a religious man myself (I am, in fact, an atheist, an unbeliever), I am reasonably sure that any religious leader considering your situation would consider it no sin at all for you to take some of the $25,000,000 U.S. dollars you intended for charity and use it to get a second opinion. I do not believe it would be the least bit selfish or sinful--although, again, I am no religious expert--to even take enough of the $25,000,000 as would cover airfare to your native Australia and visit a hospital or clinic there, if you didn't want to put another doctor in The Malaysia in the awkward position of confronting a peer's obvious malpractice. Or anywhere: you could easily fly to the United States, I'm sure, and obtain legal, temporary entry to the country for the purpose of consulting one of our doctors.
I should emphasize an obvious and salient point, that if your The Malaysian doctor is wrong about you suffering from "A VERY BAD STAGE OF COMATOSE", he or she might be wrong about other things, like your lung cancer diagnosis or the prognosis that you only have a year to live. You might be suffering from no more than a chest cold. Or heartburn. I definitely think you need a second opinion about the COMATOSE, but considering how radically wrong and off-the-beam he (or she) is about that, there's really no telling whatever erroneous, mistaken, or outright fraudulent diagnoses have been made by this so-called "doctor". It's worth checking out.
And if my suspicions are correct, and this "doctor" is an idiot, you may well have many years ahead of you, years of good health during which you could personally pursue whatever charitable and philanthropic impulses you have. You don't need me. You might be awake and alive, and able to see to these churches in Africa, "America Asia" (Alaska?) and Europe yourself. Who knows? You might even feel so magnanimous with your new lease on life that you decide to build one or two churches (or whatever) in your native Australia.
Go. See a real doctor. One who knows what COMATOSE means. And good luck and best wishes.
Sincerely,
R. Eric VanNewkirk